[Rush Duel] Battle Pack 2022 Volume 4
The last Battle Pack of the 2022 fiscal year.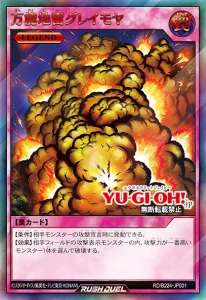 RD/B224-JP001 Widespread Ruin (Reprint; Alternate Art)
RD/B224-JP002 Amusi Performer (Reprint)
RD/B224-JP003 Sakakaze the Talismanic Warrior (Reprint)
RD/B224-JP004 Karatake the Talismanic Warrior (Reprint)
RD/B224-JP005 Douma the Talismanic Supreme Sage (Reprint)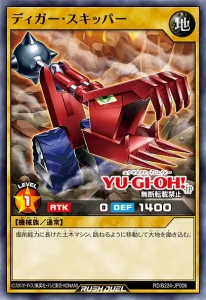 RD/B224-JP006 ディガー・スキッパー Digger Skipper
Level 1 EARTH Machine Normal Monster
ATK 0
DEF 1400
掘削能力に長けた土木マシン。跳ねるように移動して大地を鋤き込む。
(A civil engineering machine that excels at excavation. It moves in a bouncing motion to plow the earth.)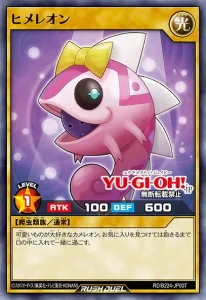 RD/B224-JP007 ヒメレオン Himeleon (Princessmeleon)
Level 1 LIGHT Reptile Normal Monster
ATK 100
DEF 600
可愛いものが大好きなカメレオン。お気に入りを見つけては飽きるまで口の中に入れて一緒に過ごす。
(A chameleon that loves cute things. After finding something it likes, it puts it in its mouth until it tires of it.)
RD/B224-JP008 フェアリー・ドラゴン Fairy Dragon
Level 4 WIND Dragon Normal Monster
ATK 1100
DEF 1200
妖精の中では意外と強い、とてもきれいなドラゴンの妖精。
(An extremely beautiful dragon fairy that is surprisingly strong among faeries.)
(TCG: This beautiful Dragon spirit harbors hidden strength.)
RD/B224-JP009 アイツ Aitsu
Level 5 FIRE Fairy Normal Monster
ATK 100
DEF 100
非常に頼りない姿をしているが、實はとてつもない潛在能力を隠し持っているらしい。
(He seems to be very unreliable, but he might have incredible potential.)
Note: This card's inclusion in Rush Duels is a reference to アイツ (Aitsu/That Guy), a character from recent episodes of Yu-Gi-Oh! Go Rush!!
RD/B224-JP010 レベルブラスト Level Blast
Normal Spell Card
[REQUIREMENT] If both players control a Level 7 or higher monster(s), you can activate this.
[EFFECT] Choose 1 of your face-up monsters, inflict 100 damage to your opponent x [The chosen monster's Level]. During this turn, you can only attack with 1 monster.