[Duel Links] Unknown Duelist
A mysterious Unknown Duelist has appeared in Duel World (DSOD)…

Available until October 8.
How to Play
Event Information
Recommended Rewards
How to Play
1. Duel Unknown Duelist
For a limited time, Unknown Duelist will appear in the Duel World (DSOD).
Duel her to obtain Rewards.

2. Superconscious Duels 
Duels against Unknown Duelist will become Superconscious Duels, causing the following changes:
High-level monsters can be summoned without Tribute.
Event Information
Unknown Duelist

Regarding the appearance rate 
Dueling in any Duel World will increase the chance of Unknown Duelist Appearing. The chance of her appearing will increase every tome you Duel until she appears.
*The chance of Unknown Duelist appearing will also be increased by Dueling in Ranked Duels (excluding surrenders).
Recommended Event Rewards 
Recommended Cards
"Durza the Meteor Cubic Vessel" [UR]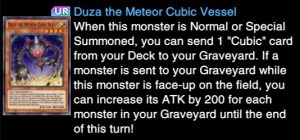 "Cubic Mandala" [SR]
Other Recommended Cards 
"Constellar Algiedi" [SR]
"Constellar Virgo" [R]
"Constellar Aldebaran" [R]
"Constellar Star Cradle" [R]