[Duel Links] Solemn Odion
Duel event exclusive "Solemn Odion" to obtain cards such as "Granmarg the Mega Monarch".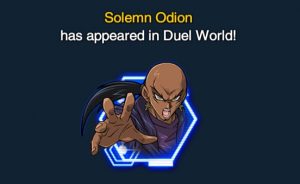 Until August 19 2019.
How to Play
Event Information
Recommended Cards
Mission List
How to Play 
Challenge against Solemn Odion
For a limited time, an event exclusive version of Odion, Solemn Odion, will appear in Duel World.
Duel him to obtain Event Rewards.
Event Information 
Event Missions 
Duel Solemn Odion to complete Event Missions. 
Regarding the appearance rate
Dueling in Duel World will increase the likelihood of Solemn Odion appearing. The chances of him appearing will increase each time you Duel until he appears.
The chances of Solemn Odion appearing will also be increased by Dueling in Ranked Duels.
*Surrenders do not count.
Recommended Event Rewards 
Recommended Cards
"Granmarg the Mega Monarch" [UR]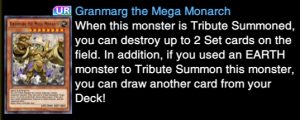 "The Prime Monarch" [SR]
Other Recommended Cards 
"The First Monarch" [SR]
"Mythical Beast of Serket" [SR]
"Temple of the Kings" [SR]
"Grave Protector" [SR]
Mission List