[OCG] Spring Duel Festival 2021
For Duelists over at Taiwan.
From our friends over at Beyond the Duel: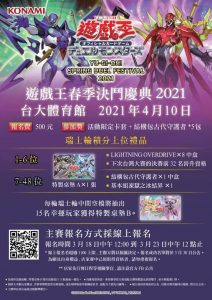 Yu-Gi-Oh! Spring Duel Festival 2021
Event will be held April 10th, 2021
Participants have a chance of getting 1 of 2 Playmats, one of which is "Doremichord" seemingly and the other is "Ursarctic".
Venue: NTU Sports Center
Top 48 Prizes: Product prizes + a playmat featuring Ursarctic
Lucky Draw Prizes: 15 players will win the 2nd playmat every Swiss round
Meanwhile, to enter the event:
The Spring Duel Festival has been updated to include a store event segment!
Event period: 13 February to 14 March as part of the Ranking Tournament at official stores
Entry method: Purchase 4 booster packs on the event day
Champion: Free entry to the main Spring Duel Festival event held on 10 April, 2 bye-wins and 1 pack of sleeves featuring Traptrix Utricularia.